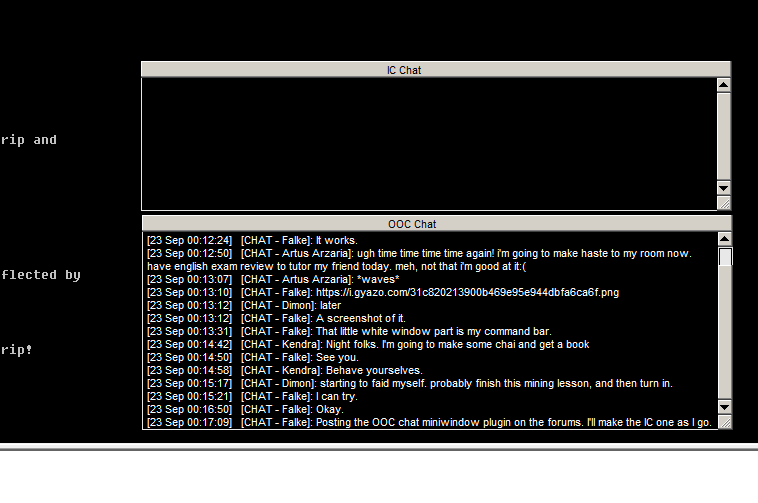 So I decided to modify a plugin I found a long while back that I used for another MUD. It is now applicable to CLOK and will capture the tell, chat and question channels in a separate, moveable miniwindow. It was a script originally modified by some guy going by Fiendish which I found and began changing to fit my needs.
As of this post, I am not done with the IC window yet and will make the triggers to capture certain things besides various ESP channels as I go. The plugins are two separate chat plugins tied to the same set of commands though I will likely change this.
From the plugin author's notes are the following commands that you can type in like any command in CLOK, but it will target the plugin's features instead.
Note that if you disable chat echo, you will not see any of the chats in your normal output window, they will appear as a blank line which I haven't found a solution to yet.
USAGE:

chats echo on : echo chats in main window
chats echo off : do not echo chats
chats show : show chats window
chats hide : hide chats window

Left-click a line to copy it to the clipboard
Right-click main window to see menu of options

Click title bar to drag window.
You can turn timestamps off by right clicking the window and using the appropriate menu options.
The point of this is to remove clutter from the screen and make actions and such that could be lost in combat spam or otherwise harder to miss. And, I personally hate that the right side of my screen is filled with nothing but black background that has no purpose. I may not end up putting emotes and such in the IC window and may focus on keeping it ESP-only, because you CAN miss things when a lot is going on in-character.
To install, download this file and put it in your plugins folder found within your MUSHClient subfolders, under worlds (MUSHClient\worlds\plugins for example) and add it by opening CLOK and going to file then plugins and hitting "add". It should start enabled, but you can freely disable, enable and remove it if you wish.
To
update
the plugin, you have to download the file, overwrite your existing version and then reinstall it much like you initially added it.
https://www.dropbox.com/s/m5xsjbgh0o6kz ... t.xml?dl=0
Version: 7/18/2017, Nicknames Edition
Edit: Post here if you have difficulties with it and if you want to request a channel I may have missed. I already added the BBS notifications with the links hopefully being captured, too.